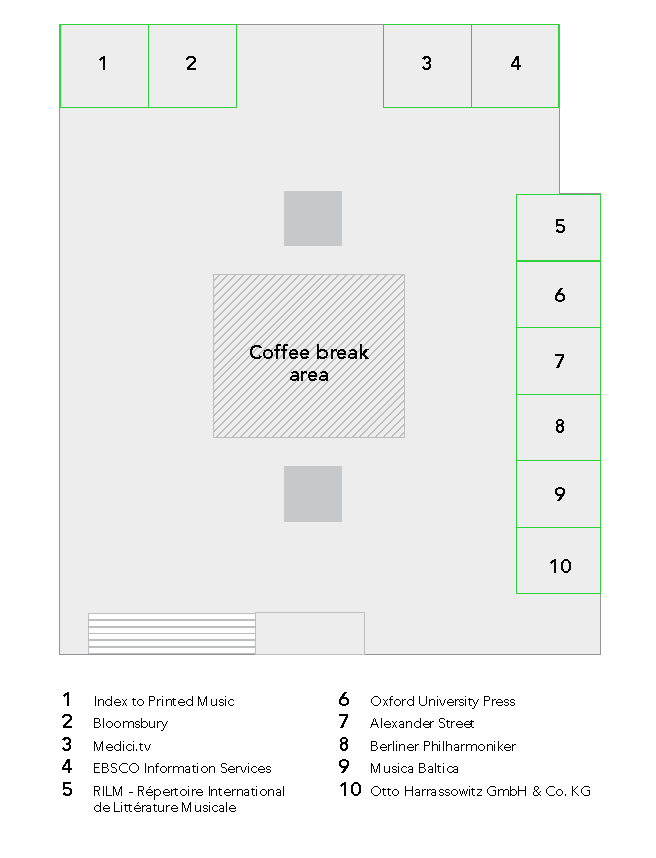 We invite companies and individuals to support this congress, reaching more than 350 music librarians who have responsibilities for administering budgets, recommending furniture and equipment purchases, and selecting materials (books, scores, A/V materials, journals and more, in both print and digital forms). We value you as partners as we work together to meet the needs of our clients and institutions.
You can do so in the following ways:
by sponsoring the entire congress, thus your logo will appear on all communication's materials;
by placing an advert in the congress programme issued to all delegates at the congress;
by placing an insert in the congress bag;
by flyer distribution at the exit of the conference halls or in fixed holders in the foyers;
by joining us at the congress as part of the Professional Exhibition;
by sponsoring one of the social events.
Please see detailed offer.
All congress supporters' names (or website addresses) will be indicated in the printed congress programme and on the congress website.
We are very happy to discuss part–sponsorship of any event in the program. If you are interested in supporting the congress and would like further details please contact iaml2017@iaml.info.
Thank you for your continued support!